Alpine Wellness
Relax and soothe your mind
Staying with us, you can not only breathe the clean air of the Tyrolean mountains, but also indulge all your senses. Sit back, breathe in, breathe out. Enjoy undisturbed relaxation in our tranquil spa area.
Opening times 
In summer: 4.00 pm to 8.00 pm
In winter:  3.00 pm to 8.00 pm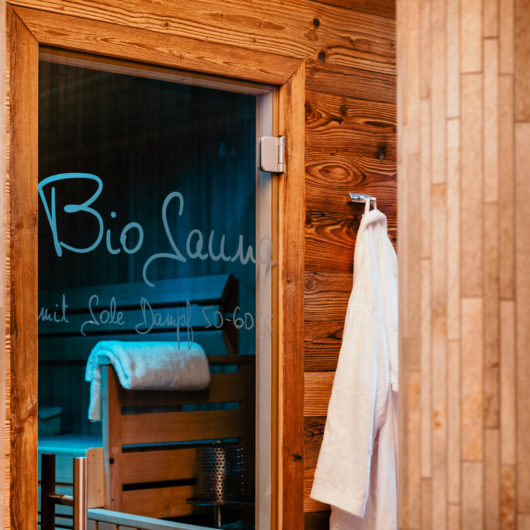 Bio salt steam room with light therapy
Given the moderate temperatures ranging from 45 °C to 60 °C (approx. 110 °F to 140 °F) and a humidity of approximately 40 %, this gentle sauna put less strain on the cardiovascular system. The air is enriched with salt steam and the light therapy is real "balm" for body and soul.
FINNISH SAUNA & STEAM ROOM
Enjoy healthy sweating in our Finnish sauna, the temperature of which lies between 90 °C and 100 °C (approx. 190 °F to 210 °F).
New is our stone pine sauna made of noble, fragrant wood.
The combination with warm and cold alternating baths stimulates the circulation, purifies the body and strengthens the immune system.
Indulgent showers & Relaxation room
Enjoy our indulgent showers choosing from the "Leogang Summer Rain" monsoon shower, hydro-massage shower and waterfall shower.
After the sauna session, the body needs rest. Let your mind wander and dream laying back on one of our comfortable, ergonomically shaped loungers.
Enjoy your favourite tea from Bioteaque at our Biotea buffet!